BookTok: The Best of Both Worlds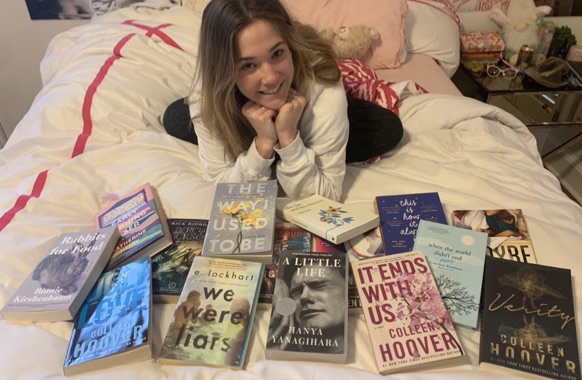 Many people gloss over the greatness of a good book, yet wouldn't think twice about spending hours getting sucked into TikTok's digital world. Dedicated readers have recognized the benefits of both and have generated a whole TikTok "genre" coined BookTok. Getting lost in a world of complex stories, enduring joy, fear, love, and loss, is a hobby of social media users and book fanatics alike. 
Circulating the feeds of TikTok users are reading recommendations that have in turn skyrocketed the popularity of featured books. Once obscure books, which were condensed to just a modest group of dedicated readers, have now spread to the masses. "I used to loathe the idea of reading," said junior Emily Creaven. "However, since discovering BookTok, I feel lucky when I get the time to read."
Enthralled readers have adored the plot twists of We Were Liars, the heart wrench of They Both Die at The End, and the rollercoaster of Malibu Rising. These books and countless others including, Seven Husbands of Evelyn Hugo, The Unhoneymooners, A Little Life, and People We Met On Vacation have been subject to the growing TikTok environment. Sophomore Katie Conner has recently developed a fondness for reading through social media exposure. "The first BookTok book I picked up, The Invisible Life of Addie Larue, is one of the absolute greatest books I have ever read," said Conner. "I probably would have never read it without BookTok."
Books of all genres are reviewed and recommended through BookTok and popular book accounts. We Were Liars by E. Lockhart is a suspenseful novel that explores the life of a large family on their annual vacation and an accident that ensues chaos, lies, and questions. Adam Silvera's They Both Die at The End creates a powerful story that connects two unlikely characters through their inevitable end. Daisy Jones and The Six follows an iconic band that expands on the lives of the individual members through love, loss, addiction, and triumph in the 70s. All of these books are constantly circulating throughout the app. "There is not one Booktok book that I have passed up. I've loved each and every one of them and always check back for more recommendations," said senior Ava Granot.
Tik Tok has been profitable for those authors who appear on BookTok causing thousands of intrigued people to check out their books. Colleen Hoover is an author who has embraced the benefits of BookTok. She is a young adult novelist who has won the hearts of readers with her book It Ends With Us. While the book was published in 2016, recent sales of the book have skyrocketed thanks to the exposure of BookTok. 
By now, hundreds of intellectuals have shared tear-stained, dog-eared, and annotated pages through the power of TikTok. With reading on the rise, some may argue that getting lost in a book is just as (or even more) amusing than scrolling through social media.
Leave a Comment