Warrior Senior John Rudd Vaults To State Champion Heights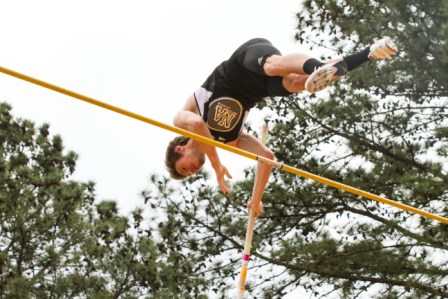 John Rudd, a North Atlanta High School senior, is the 2014 5A state champion in the pole vault. Rudd, a member of the Warrior track team for four years, won the 5A competition at a track meet held on May 8 at Jefferson High School in Jefferson, GA. During the meet, Rudd competed against the top 15 5A pole vaulters in the state. He won the competition by clearing the bar at 13 feet and 6 inches. The mark was off his personal best of 14 feet and 7 inches.
The senior said the state champion status is something he could scarcely imagine when he started off with track during his freshman year.
"When I was a freshman, I used to think: 'One day I'll get to state.' Last year, my goal was to be among the top athletes in the pole vault. So, this year, to be able to reach state champion is something I can hardly believe," he said.
Rudd will attend Rice University in the fall on an academic scholarship. While at the prestigious Houston, Texas-based school he will compete on the Rice Track and Field team.
At North Atlanta, he has been coached by Tiffany Grant, Warrior track coach and NAHS physics teacher; and Warrior community coaches George Sanderlin and Patrick Stafford. The senior has also been coached by Hal Fairbanks, director of Pole Vault Atlanta, a high school pole vault training facility.
Rudd said the school's track program has developed significantly in his four years on the team. "We used to be a program of what seemed to be just individual runners and athletes. Now it really feels like we're a big family. I'm going to miss my fellow Warriors," he said.
The athlete's coaches saw how his talent and motivation merged to make him one of the best in the state. "He became the vaulter that he is because he has the mind to understand technical things very quickly. And the other thing about John is that he's probably one of the hardest working athletes I've ever seen," Sanderlin said.
Rudd is the school's third state track and field champion. Other Warrior track and field athletes who reached the same lofty status are Mario Butler, state champion in the 400 meter run in 1997 and Tim Nelson, state champion in the long jump in 1995.