He Loves Me…He Loves Me Not: Thoughts on Valentines Day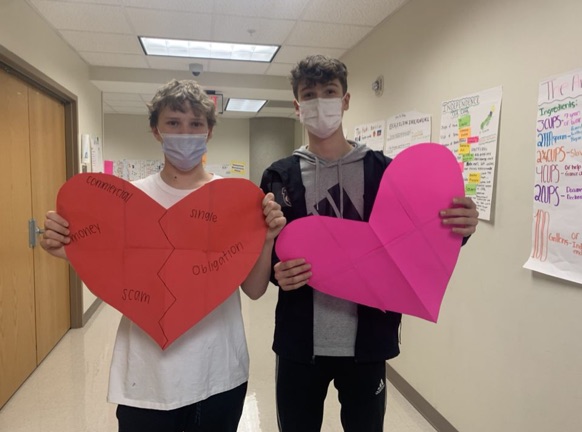 February remains the hallmark for one of the most debated commercial holidays: Valentine's Day. Pink and red polka-dotted hearts splay far and wide, impossible to escape. Stuffed bears, sweet chocolates, and letters written with love are passed among admirers. Typically, this holiday is resented by the recently dumped or perpetually single individuals, and treasured by the soulmates and sweethearts. This year, as Feb. 14 rolls around, North Atlanta students have a lot to say.
The diverse relationship status of the student body leaves many opinions to be gathered. Individuals take different sides on their views of the holiday, holding an affinity or animosity towards the day symbolizing love. Proponents of Valentine's Day agree on the importance of expressing devotion and passion to valued members of their lives. Others feel bitter towards the exclusive holiday which illuminates the lack of love in one's life. "It just feels so obligatory, as well as saddening when the holiday rolls around and I have no one to celebrate with," said senior Josie Bird. 
The competition and commercialization of Valentine's Day distract from the true meaning behind the holidays. On Feb. 14th materialists who are maddeningly in love will no doubt indulge in the holiday hype by giving and receiving tokens of affection. On the contrary, singles may simply live another day in their lives without regard to Valentine's day—despite the obnoxiously displayed decoration. "I don't even know the origins of Valentine's Day, it just seems like a scam," said senior Anna Yoder. 
No matter the students' differing opinions, there is no doubt that as we've grown, the grounds for celebration have shifted. No longer do we spend time decorating shoe boxes and distributing scratch and sniff valentines, Fun Dip, and chocolates. Our childlike attitudes towards Valentines have been forced away with the reality of real life relationships. "I still recall celebrating Valentine's day in lower school, and I think it's that sort of nostalgia which makes me love the holiday so much," said sophomore Cecily Sullivan. 
Not all love has to be rooted in an admirer or significant other. Some students agree that celebrating Valentine's Day can be as platonic or romantic as you choose. "I've never spent Valentine's Day in a relationship, but I still love to recognize the holiday and give candy and cards to my friends," said sophomore Grace Nyberg. 
Lovebird or loner, Cupid can't win 'em all.
Leave a Comment