Lights Up on Harry Styles in the State Farm Arena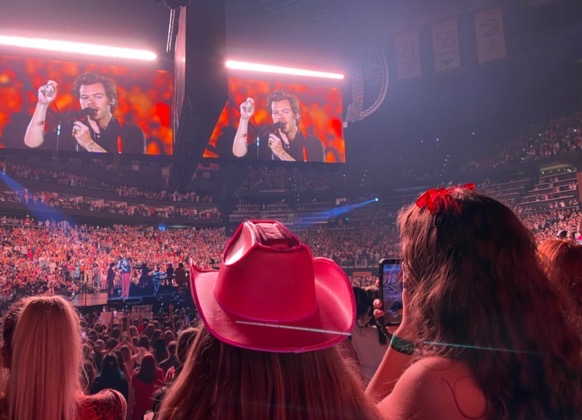 Esteemed singer, songwriter, and actor Harry Styles graced the Statefarm Arena with his presence on October 27th and 28th. The artist is touring for his second album, "Fine Line." His visit to Atlanta boasted two sold-out shows with a total of 32 thousand excited fans in attendance. In the weeks leading up to the event, the halls of North Atlanta were filled with the buzz of excited students awaiting their concert date.
The show was originally set to be held on July 29, 2020, with tickets on sale as early as November 13, 2019. The original tour dates were one of the many sacrifices made due to the onset of the Covid-19 pandemic. This means that many attendees have owned their tickets for almost two years. Although daunting, such a long wait period did not detract from the atmosphere of the concert. The anticipation added to the excitement and relief of the arrival of such a coveted event. Fans queued for hours leading up to the event to put their elation on display. Sophomore Natasha Havey held her tickets for nearly a year but had been looking forward to the show for two. "There was such a positive atmosphere, Harry made everyone feel so comfortable, and there was a really strong sense of community," said Havey.
One of the most unique aspects of a Harry Styles concert are the outfits. Everyone dresses to impress. Styles encourages freedom of expression when it comes to fashion which is most clearly reflected through his daring looks and the mimicry of his fans. Dubs in attendance had been planning the perfect outfit for months.
A range of clothing could be found, from floor-length gowns to senior Caroline Newbern's taco costume bedazzled with fairy lights. "The outfits are really just about having fun," said Newbern. "Everyone looked amazing, and several people even asked to take pictures with our silly costumes!"
In classic Harry Styles fashion, the concert couldn't be just that. The crowd was enamored by the singer's ability to juggle singing, joking around with fans, and giving inspirational speeches. Styles made time to personalize the experience for everyone in the audience by reading signs, waving pride flags, and cheering on the Braves. Some viewers like Sophomore Chloe Walker—who watched the performance in the pit, mere feet away from Styles—were even drenched with water he flung across the stage. Styles creates a safe space for fans at his concerts, encouraging them to be "whoever they've always wanted to be." "No matter how close you were, everyone had a great experience, and I think that says a lot about his abilities as a performer and host," said Walker.
With tears shed and flowers thrown, this event will not soon be forgotten. The blasting music and blinding lights cast a fine line on the Atlanta skyline that will leave a mark.
Leave a Comment