Devon Gates: North Atlanta's Rising Star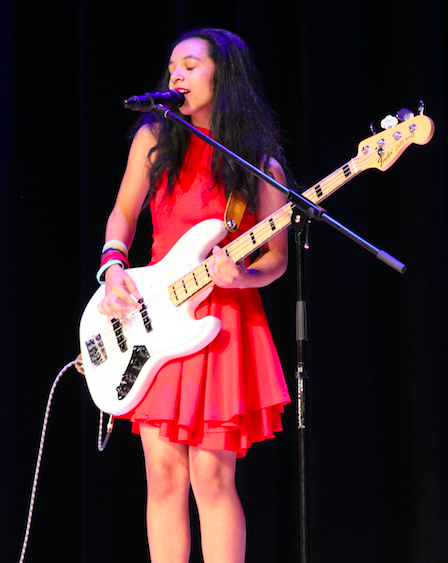 Hang on for a minute...we're trying to find some more stories you might like.
Sophomore Devon Gates has been showcasing formidable talent since a very early age, and her notable abilities range from music to foreign policies, to debate, to singing and even poetry. She has completed quite an impressive list of accomplishments, far beyond that of a typical student – or even a typical adult – can do.   As she carries stellar grades she's also found time to create a band that performs rock-and-roll gigs for the school and that even gets involved in a few band competitions. "I really enjoy it. I feel like I've learned a lot from my experiences with these competitions," she said.
Her band, No Solution, competed in the International Blues Competition, and this involved going to Memphis back in January 2016 to compete and play with a bunch of young musicians from around the world. "It was probably one of the best experiences of my life," she said.
Gates mentioned that the group has also gigged at Atlanta-based festivals like the annual Georgia Blues and Roots festival, the Buckhead Theater, the Hard Rock Café, and the Eggtoberfest at Stone Mountain.
Not by any means content to only play her songs, Gates is very involved at North Atlanta. She has also joined several academic clubs, most notably the Academic Bowl. With all of these different things, it can be hard to relax, if relaxing is even a possibility. "I guess I do a lot of different things, which can be also an advantage and a drawback because that means I don't have a lot of time for relaxing or sleep or other essential human needs," she said. "And I guess I like to say that I try to be open-minded."   Although her broad skills can leave her a bit stretched out, Gates is reassured that she is good at what she does and would like to pursue it further. "I have a lot of different ideas because I do a lot of different things, but I know that whatever I do, I definitely want to be able to help people," she said.
She plans on entering North Atlanta's IB program. After her high school graduation in 2019, she intends to attend college, preferably, either the University of Chicago or New York University. While in college, Gates said wants to possibly major in jazz or theatre, or a combination of the two. And going beyond this artistic bent, she said that for her career she plans on working in politics or public policy. Her particular interests are in diplomacy and intercultural communication. "I like to say that I'm focusing. The problem is that I'm trying to focus on a lot of things," she said. "And that's not always a problem, but I understand that in later years, I'm going to have to try to focus more. Which is going to be hard, but that's life."
Rock band member. Academic Bowl participant. Future theater major. Future public policy professional. That's a lot on the plate of one busy sophomore.