Ms. Jackson: North Atlanta's Personal Ray of Sunshine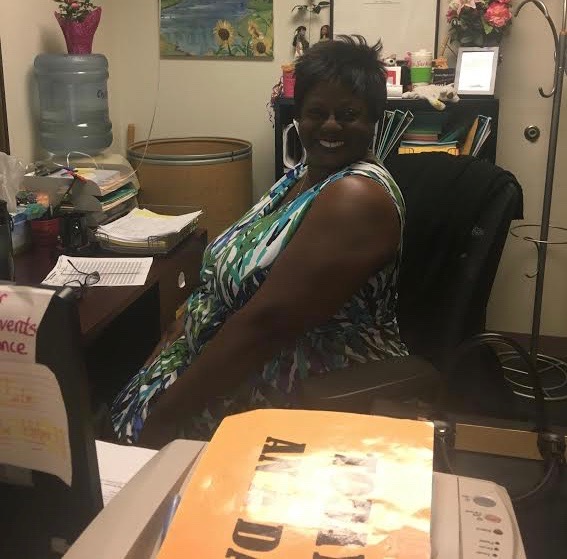 A dedicated member of the North Atlanta family and light to all who pass through the attendance office, Kyra Jackson, better known as Ms. Jackson to students, serves as the school's personal ray of sunshine. From covering classroom substitutes to keeping track of the entire student body's attendance, Jackson really does it all, or in her words, "Whatever you need done."
She has been part of the North Atlanta High School staff since 1997, marking a dedicated service to the school longer than even the lifetime of this year's seniors. However, she approaches her days with the same positive attitude as if it was her first day. "Everyday single day is a great day. I love greeting everyone I meet with a smile and making them smile in return," said Jackson.
A lover of all human interaction, she cherishes the unique and loveable personalities of the students she comes across year by year. Even though she's seen 10,000 faces, Jackson said each new face lifts her spirit. "I just love different people," she said. "I love the students being who they are."
With each year comes a brand new lot of new students with unique personalities and various backgrounds. Jackson has the opportunity to watch these students grow and mature, until it is time to say goodbye.
Graduation is life-changing experience for students but it's also hard because of the departures the date represents. And as hard as it is for the students, it's equally hard for the faculty and staff who shepherd them through their high school years. "It's so interesting to see students grow and mature as the years pass by," she said. "After every summer I get to see how each student grows."
The hardest thing to say is goodbye and this holds true for teachers, staff and students, alike. Jackson can never say goodbye to students, though she is certain that they will always make their way back to their roots at North Atlanta. "She's such an important part of part of my high school experience," said sophomore Fiona Liu. "It's going to be really hard to leave her behind."  
Without Jackson, the school would not properly function. No one is as adept at keeping everything together. She is North Atlanta's personal ray of sunshine on any given day, and without her it wouldn't really be North Atlanta.