Mamma Mia: Here We Go Again!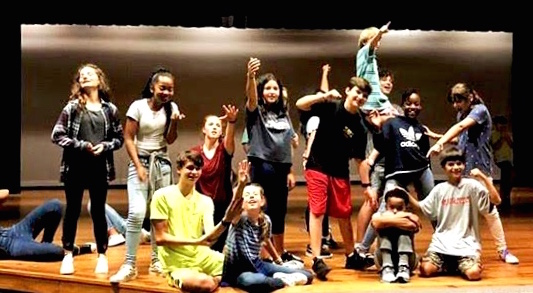 For the seventh consecutive year, Sutton Middle School is performing its much-anticipated fall musical. North Atlanta's feeder school is known to be a hotbed of musical and performing talent and this year's show — a send up of the popular play and movie "Mamma Mia" — is sure to be a crowd-pleaser.
The show is being produced by both adult sponsors and a school-based club called Students APS Collaborative Theater (or Students ACT). The group's mission is to give young actors and singers a venue to pursue their passion for musical theater.
"Mamma Mia" is a jukebox musical about a girl named Sophie who her upcoming marriage on an idyllic Greek Island. She discovers in old letters that she has three possible fathers, and she invites them all to her wedding. From there the plot gets richly more complicated. Undergirding the show are a series of well-known songs by the 70s-era Swedish pop band Abba. The hits are part of the era's soundtrack and the show features classics such "Dancing Queen," "Waterloo," "S.O.S," "Honey Honey" and of course, "Mamma Mia!" The show features complex dance numbers and the young performers have recruited experienced dancing coaches from among North Atlanta students to help with choreography. "We have talent on so many ranges that's wonderful to see. Plus, how could you miss out on the ABBA classics?" said senior Caroline Tuemler, who is acting as the show's stage manager.
You may know seniors Katherine Atkinson and Graham Humphreys, who are co-directors of the upcoming fall show. They themselves participated in the musicals while they attended Sutton and continue to pursue their passion for musical theater by playing such a vital role in its production. Atkinson works diligently to choreograph and block the show with support from her secret weapon: her mother Karen Atkinson, who has been a major supporter of musical performance within the North Atlanta cluster. "The musical requires a lot of work such as choreography, singing, set, and acting technique," said Tuemler. "The directors and our music crew are responsible for a lot of the artistic stuff, but we have two adult sponsors who do much of the heavy lifting with the kids and backstage. And Katherine's mom is a master with the sets."
Other North Atlanta students are creating costumes, sets and preparing the music for the show. This North Atlanta-Sutton partnership of "Mamma Mia" will be performed on Nov. 8, 9 and 10 at Sutton Middle School. So, mark your calendars, because with this musical: "You can dance, you can jive" and the directors say you'll be "having the times of your lives."