Early Decision Is A Decision North Atlanta Seniors Have to Make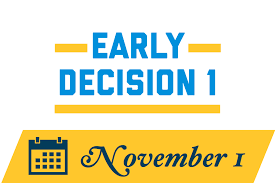 The time is now for seniors to apply to college. It's scary, new and somewhat infuriating, but also an exciting time for growth. Most seniors aren't sure where exactly they want to go to college, but a select few already know precisely where they want to be. And so, Early Decision might be the right choice for them.
Early Decision is an option wherein college applicants can apply to the college of their choice early, usually in November. It is similar to Early Action, but unlike the latter, only one Early Decision application can be sent. And afterwards, if you get accepted, you are required to go to that college. No questions asked.
However, if you aren't completely sure about whether the college is the right choice for you, it's recommended that you apply to a non-binding option because being bound to a school is borderline unbreakable – if you commit Early Decision to a second college, you can be blacklisted from all colleges for up to a year.
Early Decision can also be a risk because typically, one can be offered less scholarship money than if they had applied Regular Decision. Because acceptance for Early Decision is binding and one has to go no matter the financial cost, colleges tend to offer the bare minimum aid. This can be a problem to students who can't afford today's rising costs for a higher education and might discourage them to apply to the schools that they really want to go to.
However, with all its risks, applying Early Decision creates a better chance of the student getting into the college of their choice, sometimes even by 5 or 10 percent. For someone who has had their eye on a specific school for a while, this is a steal. Statistics and college websites have shown that those who apply Early Decision make up a good amount of the accepted student body.
An anonymous North Atlanta senior applying to Swarthmore College feels as though the Early Decision option would be more beneficial. "The acceptance rate doubles," he said. "And it'll give me peace-of-mind sooner if I get in."
At the end of the day, it depends on whether your ideal college is the right one for you. There are both risks and benefits to it, and although we love being Warriors, college is calling. The decision is yours.