North Atlanta Boys Cross Country Team Has Genuine Championship Aspirations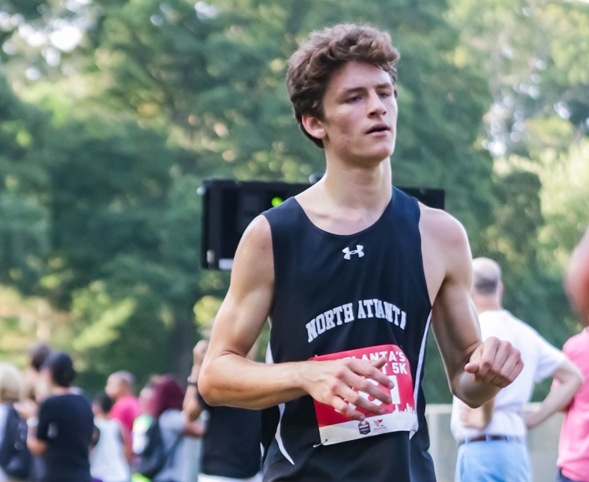 Hang on for a minute...we're trying to find some more stories you might like.
To some people, there isn't too much technique involved in running. Just get from point A to point B as fast as you can, right? The sport of cross country exists to disprove that notion. It's about getting the best start possible, about keeping your composure in adverse conditions like rain or steep hills, and about being disciplined enough to conserve your energy for the long haul. While this can seem like a cruel sport to some, North Atlanta boys cross country team captain Ismail Massar sees the beauty in the struggle. "It's all about the reward at the end when you finish the race," Massar said. "When you know you've run your best and helped the team, there's nothing that beats that feeling."  
In the rough 6A division of Georgia high school sports, success is pretty hard to come by and the division has not been so kind to North Atlanta sports in the past. This year, however, the Warriors' boys cross country team is ranked eighth out of 58 schools in 6A. The Warriors compete in Region 7 of 6A, a region that includes seven teams total in the 6A top 10 rankings. The top three, Pope, Cambridge, and Alpharetta, are nearly untouchable in the rankings. In as hypercompetitive a region as that, North Atlanta's success is no joke. The team is no doubt good enough to compete for state, but in a region as cutthroat as theirs, their path will be much rockier than it normally would be.
The Warriors' top two runners are juniors Andrew Churchill and Ethan Curnow. This year, the Warriors have performed much better than in years past, and team captain Ismail Massar says it has a lot to do with team chemistry. "We're a really close team," he said. "We all can joke around but when it comes down to it we take competition very seriously and push ourselves to do better." 
Massar also credits the overhauled coaching staff with their rise in performance. New coach Antonio McKay has proven to work wonders for the boys team. "He's brought more of a competitive nature to the program," Massar said. "His expectations are very high. And the cool thing for us is that we've been able to meet and exceed those expectations." 
The Warriors are gearing up for a run at the APS championship on October 8. They've picked up some huge wins along the way to get there, finishing first overall at the Wingfoot Invitational in Cartersville, third at the Darlington Festival Cross Country Meet, and of the four APS meets at Grant Park, the Warriors have won three of them. This team is legit, and they're hoping to cap off their magical run — no pun intended — with an APS championship, and perhaps even more beyond that. At a time where football can dominate the proverbial headlines of North Atlanta sports, there's another Warriors team with a real shot at something special.