State of the District: APS' Shining Success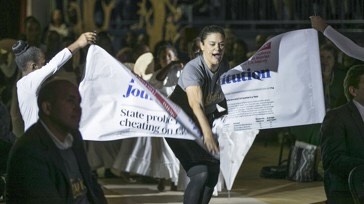 Atlanta Public School's superintendent Meria Carstarphen put on her last State of the District on November 7. It was an event put on by Carstarphen in order to highlight the successes of APS, and she did so by showcasing some of the most talented students from every part of the county. From North Atlanta's own philharmonic symphony to South Atlanta's football team and cheerleaders to Grady's debate team. One thing is for sure: there is no shortage of talent in Atlanta Public Schools. 
          Each year, the State of the District has had a different theme. This year it was "Epic," playing on the long journey APS has gone through to get where it is now. It began with a heartfelt account of APS' journey toward racial inclusion, featuring a dance from Harper Archer's young dance squad. The event went on to highlight the talents of Grady High School's debate team, and multiple performances by North Atlanta's orchestra with songs such as "Game of Thrones" and "Pirates of the Caribbean." 
         Senior Sydney Jones, a four-year orchestra veteran, says the event taught her more than just music, but more about her school district. "Obviously it's always fun to play with my orchestra mates, and everybody who performed was so talented," she said. "However, it was also super beneficial to hear the statistics and recognize how privileged we really are to go to this school." 
        The statistics didn't lie. There are definitely still hoops for APS to jump through in order to bring our district to racial equity. "We have made great progress, but we still have along way to go," said Carstarphen during the event. "There's a lot of percentage points between the rich and the poor. But that's why APS isn't finished." 
        Despite the still-present inequities in our school system, there are still many successes under APS' belt. The superintendent made sure to highlight the districts climbing college acceptance rate which climbed 11 points to 62 percent during her tenure. Although this may have been Carstarphen's last State of the District, the effects of her tenure here in APS will be sure to endure long after she's gone.