Behind the Favorited Warrior-Term "Dubs"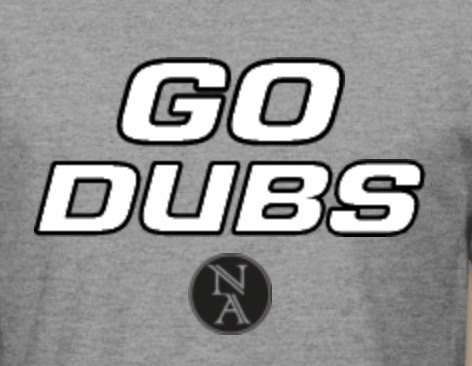 Hang on for a minute...we're trying to find some more stories you might like.
Those aware of North Atlanta High School know the school's nickname is the Warriors. However, students throughout the building, whether it's at a football game, a pep rally, or just in the hallways, have heard the phrase "Go Dubs" thrown around plenty. Some students don't really pay mind to it, but others enjoy it and the fact is that: It's spiffy and fun to use. But where did it come from? Why use it? 
The idea of introducing a fun, shorter-abbreviated to North Atlanta was sparked a few years ago by Journalism and Spanish teacher Mr. Stenger, who was influenced by how the Golden State basketball fans call their mascot, the Warriors, the "Dubs." Stenger has encouraged the use of calling the North Atlanta sports teams the Dubs since then and promoted the chants in student sections. Although it is difficult to collectively push a memo among the whole student body, many have caught on to the trend, often referring to North Atlanta as the Dubs instead of the Warriors.
Since its introduction, "Go Dubs" has become a common chant in the North Atlanta student section at football and basketball games. One of the main reasons the new phrase was brought about was that it is cooler chant to holler out in the student section. Some students think the five syllable chant "Let's Go Warriors," is just a little too extensive, and think throwing in a new, shorter and fun chant every once in awhile when cheering on their highschool team is a great idea. 
Calling a team by a spiffier, shorter alternative nickname that's different from their actual name is not an anomaly among collegiate and professional sports teams. The Virginia Cavaliers, a D1 college team in the ACC, have been nicknamed "The Hoos" for decades following a dispute with Washington & Lee decades ago, in which students at UVA used to be called "Wahoos," as a denoting insult. But, the students at Virginia had fun with it, and now "Go Hoos," is a chant that is screamed all game long no matter the sporting event.   
North Atlanta in its history has not been known for its school spirit. Football games in the past have not yielded huge crowds in comparison to the size of the student body, other sports receive little to no fan support, and pep rallies normally end in students leaving the stands ten minutes early. However, recent events may be reflecting a change in this lack of spirit, as many students flocked to Grady Stadium at the end of the regular season in the bitter cold to watch the team, and over 150 students traveled all the way out to South Paulding County to watch the playoff game. Reasoning behind this? Perhaps a newer, more invigorated student spirit motivated by a new phrase. Go Dubs!