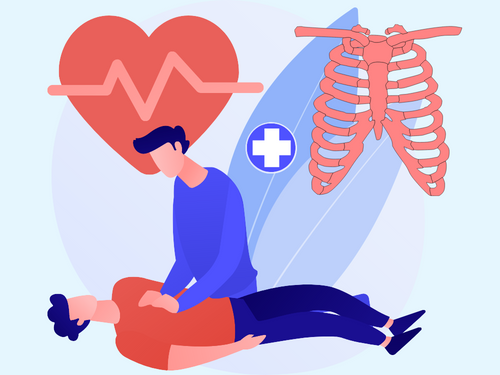 In the critical minutes before first responders arrive, a powerful, "primary" responder exists – cardiopulmonary resuscitation (CPR). At pools, offices, and hospitals, this life-saving technique is commonly used to prevent further health complications or even death. As such a vital skill, why are CPR and First Aid training not taught more in schools?
On 2 January of this year, Buffalo Bills safety Damar Hamlin suffered a cardiac accident after being hit in the chest. Many of us remember the news – constantly refreshing social media pages for updates on his condition. We focused on his trip to the hospital but failed to think about what happened in the minutes before paramedics arrived. Bills trainers Nate Breske and Danny Kellington sprung to action as soon as Hamlin went down, even going so far as to block cameras by positioning players in specific places. Their quick thinking and use of CPR saved Hamlin, who has made his return to the NFL this season.
While it seems unlikely that the average person would be involved in Hamlin's situation, we have to think about CPR on a smaller scale. I work as a lifeguard at my local pool where we are required to be CPR-certified before we can even climb into a lifeguard stand. I've learned that while children seem to be the most vulnerable in the pool, even adults are susceptible to drowning. In the United States, about 4,000 people die due to drowning every year. However, there are also 8,000 nonfatal drownings per year. When CPR is used correctly, the amount of fatal deaths by drowning is reduced immensely. 
Unfortunately, CPR is only briefly taught in high school physical education or health classes. The one time I remember learning in school was during my freshman year, which happened to be during the pandemic. It was difficult to learn anything about chest compressions by practicing on my doll at home. Safe to say I did not gain a proper understanding of CPR until over a year later at a CPR training course for lifeguarding. I wish I had been given more opportunities to learn such an important skill earlier.
Here are the simple steps for CPR according to the American Red Cross. If you want more information, you can take a course with the ARC or another nearby provider:
1. Check the scene for safety and make sure to use personal protective equipment (gloves and a face mask).
2. Check for responsiveness by hitting the unresponsive's shoulder and yelling at them.
3. Check for breathing by watching the person's chest rise and fall.
4. Call 911 if either of these things do not happen.
5. Kneel beside the person and begin giving chest compressions.
Place hands in the center of the chest right between ribs.

Keep elbows locked and do NOT bend them (you will get more tired this way).

Push down at least 2 inches into the chest.

Compressions should be at the rate of Bee Gee's "Stayin' Alive".

Continue 30 times before giving ventilations.
6. Give ventilations
Hold chin open and lean head back to ensure the airway is open.

Take a normal breath and breathe into their mouth for about one second.

Make sure the chest rises with each breath.

Continue twice before switching back to compressions.
7. If they continue to be unresponsive and are not breathing, continue compressions until first responders arrive. Use an AED if one is available but be sure to listen to what it says to do.