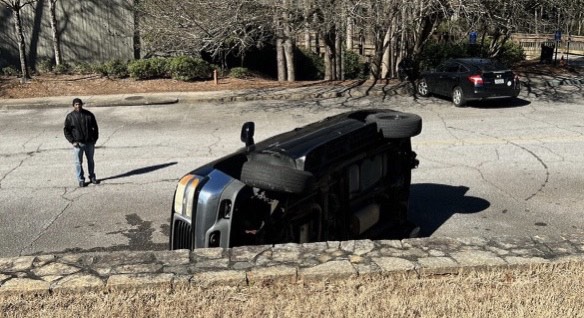 You're a high school student, windows down, the wind in your hair, and the music blasting. Life couldn't be sweeter until it turns disastrous in the blink of an eye. Car crashes are not foreign to the students of North Atlanta, particularly not in the parking deck. It seems like the parking deck has become a battleground. It's almost like the parking lot has its own gravity, constantly pulling young drivers into its crashes, one unintended acceleration at a time.
Richard Massie, a senior, experienced the unforgiving concrete walls of the parking deck firsthand. "Right after the airbags went off, I sat there in shock," said Massie. "The sounds of my car smashing keeps replaying in my ears." The symphony of shattering glass and crunching metal filled the car as though it was surround sound.
For Jackson Young, a senior at North Atlanta High School, the allure of newfound freedom behind the wheel quickly turned into a life lesson. "I was driving too fast, trying to impress my friends. It wasn't so impressive when I ran into a tree," said Young. While Young is a member of the environmental club, this interpretation of tree hugger seemed a bit too literal. It seems as though driving turned Young from the most tree-loving environmentalist into an accidental lumberjack. Young's story highlights the classic teenage mix of newfound freedom, an audience of peers, and an itchy foot on the gas pedal.
For many, the aftermath is the worst part of the crash, in the world of teenage car crashes, every mishap becomes a laughable anecdote. Lydia Dukes chooses to embrace this by making her car crash an anecdote to others' collision tales. "I can't go back and unflip my car so I may as well find humor in it," said Dukes. Dukes proves that even when life hands you an unexpected somersault, you can still stick the landing with a sense of humor.
In the world of teenage car crashes, these stories exemplify the range of experiences and emotions that come with the responsibility of being a new driver. They remind us of the importance of safety, the need for responsible decision-making, and the power of resilience and humor in the face of adversity. While the road may be unpredictable, it is our responses to the unexpected twists that define our journey.