Caring School Resource Officer Nicolas Works the North Atlanta Beat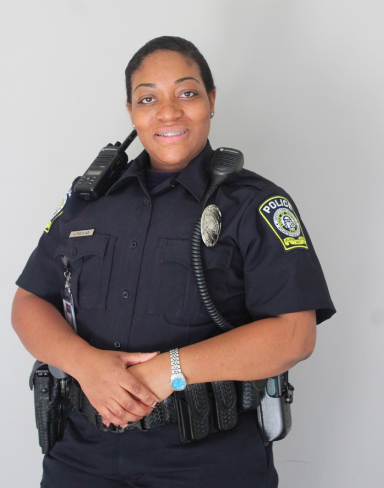 There are many interesting beats that a police officer can have but try this one for size: Being a cop among the students, the hallways and the 11 stories of North Atlanta High School.
School Resource Officer Jeanelle Nicolas has been a police officer for 11 years. She started her career in law enforcement in New York City in 2005 and worked there for two years. Because she wanted a better life for her children, she left her home state and moved to Atlanta, first securing a post with the Fulton County Sheriff's Office. After eight years in that department, she worked briefly in law-enforcement in Gwinnett County. From there, she transitioned to work for the newly formed Atlanta Public Schools Police Department. "I knew it would be exciting to work in a school environment so I decided to make the jump to APS when I could," she said.
An interest in working with youth is what drove her first decision to major in education in college at Long Island University in Brooklyn. The decision to forgo the classroom for police work was rooted in an experience that traumatized the nation and her home city of New York. After the September 11 terrorist attack, she followed a desire to serve the country through law enforcement. Becoming a police officer requires both a four-year degree along with training in a police academy and Nicolas dispatched of these in New York City.
"Policing – particularly policing at a school – is a great way to combine my desire to serve students and to remain in law enforcement," she said.
The use of excessive police force within minority communities has brought about a national examination on the topic. The backlash against police is something that has contended with, even at North Atlanta. She encountered a student who was dismissive toward her and who directly told her "I don't talk to police." Continual outreach on her part eventually warmed his heart and made him realize she's here to help him and all others. "I want people to see me as more than just a uniform. I'm not here to arrest someone, I'm here to help them reach their goals," Nicolas said.
Those who think that police have bad motives or stony hearts would do well to meet Officer Nicolas. This motivated and caring Atlanta Public School resource officer will no doubt change their views.
Leave a Comment