The North Atlanta Film Festival Reeled In Great Success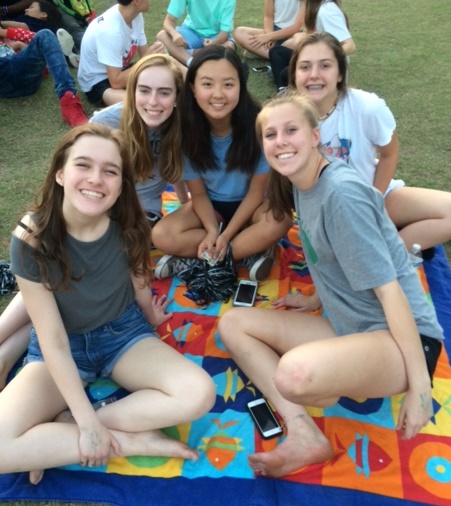 Hang on for a minute...we're trying to find some more stories you might like.
Although the Oscars had Ryan Gosling, the North Atlanta High School Film Festival had Mr. Douglass and a dunk tank. With such high-watt local waterlogged talent it is undeniable that the North Atlanta event matched anything found in Hollywood.
The film festival, held on April 21, was sponsored by the Student Government Association and North Atlanta No Place for Hate. The event not only showed a variety of student-produced films but also included a range of activities from an obstacle course, bouncy rooms and slides, a dunk tank with teachers playing willing victims, along with a variety of sponsored tables where school clubs sold refreshments. The event saw long lines at the dunk tank with students bringing their best pitching heat to bear to attempt to soak Douglass along with teachers Jeanne Hall, Wilson Harris, John Yeargin and Sarah Burns.
"I loved how North Atlanta turned simply showing films into a whole evening of festivities," said junior Claire Denning. "The event created a buzz of school spirit."
The festival itself featured six short films each of which spanned around half an hour long. The variation in styles in the films gave audiences a variety of cinematic styles to appreciate. "Personally my favorite film was by Jack Butler, called 'Stare,'" said freshman Ezra Midkiff. "It was just about a staring contest and the simplicity of the plot was what made it hilarious."
Another favorite film was the "North Atlanta Mannequin Challenge," a work that was filmed in the cafeteria during the fall. "The level of collaboration was pretty cool," said junior Maddi Bolas. "It was funny to see all my friends on the big screen," she said.
Overall the festival was extremely successful. "It was a great evening. I don't know how it could get any better next year," said sophomore Addie Brahana.
The promotion of creative talent intermingled with classic, good old-fashioned fun produced made for a night infused with school spirit and amusement for all.