COVID Can't Stop IB Literature Teacher Ms. Mills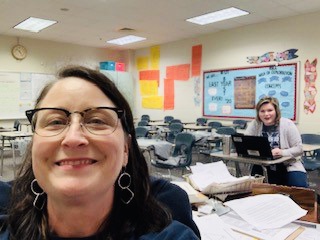 The unusual start to the 2020-2021 school year has not stopped the determination of North Atlanta to find top-notch teachers for the benefit of all students. Carla Mills, a new IB Literature and Honors British Literature teacher is no exception. Her love for the subject is profound enough to inspire even the most unwilling of students to put their heads up and listen avidly to what she has to say. Even with the doubts that school will not be back in session, the latest additions to our staff will make students want to participate in class, instead of daydreaming and doodling.
Mills had previously taught IB Literature as well, though her former school changed to only teach Language and Literature courses, greatly disappointing her. The subject is of utmost importance to her, as her primary goal when teaching is to help students understand how they can improve their writing skills and explore how we, as humans, tell stories. "The world of literature encompasses the human experience: sharing human experience through literature, whether fictional, poetic, dramatic, or nonfiction, increases our awareness of others in our world." She says.
Even with the limitations that come with being in a virtual environment for most of the year and the fact that she is a new teacher at North Atlanta, Mills still finds a way to connect with her students. She adores her work and empathizes with the struggles of her teenage students. The sometimes tricky job of working with teens has not perturbed her. "If I didn't like spending time in the company of a bunch of teenagers, no doubt I would have left the profession long ago." She said.
Returning to school may present as a bit of a challenge for Mills as she has never taught at the North Atlanta building before. However, there are no doubts that she won't be an excellent teacher. Her dedication to her job proves that, having taught for about 15 years. Mills's determination to make online school work is admirable for being a new addition to staff. "Honestly, I believe teaching online is making me a better teacher," She says, "I'm learning about all sorts of new tools to reach students."
The long Zoom days aren't enough to stop Mills from teaching her new students with glee. No amount of pandemic mayhem will stop Mills from achieving her goal and helping all of her students to success along the way.
Leave a Comment