Día de Los Muertos Offers a Time for Honoring the Dead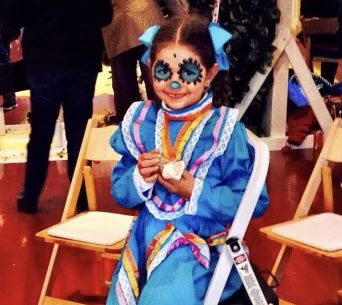 For many, the spooky season celebrations end after Oct. 31, but for those who celebrate Día de Los Muertos, or Day of the Dead, the festivities have just begun. Starting on October 21 and lasting until November 2, hosts of families welcomed back dead souls with food, drink and ample celebration. The traditional Mexican holiday goes back some 3,000 years ago to pre-Colombian Mesoamerica. It is often characterized by sugar skulls and bright colors. Many North Atlanta students take part in this holiday, which honors Mexican tradition and religion. According to tradition, the gates of heaven are opened at midnight on Oct. 31, and the spirits of children will reunite with their families for 24 hours, while the spirits of adults will do the same on Novem "I enjoy how lively and calm they make death seem; it's like Mexican culture makes everything a party," she said. "It's comforting to know you're celebrated after death.
To celebrate this holiday, families do a host of different activities together. For example, the Mijares family always bakes or buys Pan de Muerto and Mexican hot chocolate to celebrate. Before COVID, her family used to celebrate by going to a festival held in the Atlanta History Center, where they would serve different foods such as tamales, churros, and pozole, along with performances being held there. Large altars are set up for their loved ones to celebrate those who have passed. To account for the newfound loss of plans, they have adapted their traditions this year. "We decided to just buy traditional Mexican pastries and watch movies at home." Mijares said.
The day of the dead is significant to Mexican culture, and to Mijares and others, is more than just a day to dress up. They urge people to be aware of cultural appropriation during this season, as many people can be seen wearing skull masks and other traditional Mexican clothes as a costume. "I love seeing couples dressed up as the Catarina, but when they heavily sexualize it and use it as an excuse to interpret it into being feared or creepy, I take issue with that," she said. "It's just so easy to learn the history and learn that it's not a Halloween costume, it's a Day of the Dead costume."
In this holiday season, take the time to appreciate the diverse array of celebrations occurring in different cultures. While the Halloween season is wrapping up, the Day of the Dead has just commenced. Feliz Día de Los Muertos to all who celebrate!
Leave a Comment