Childhood Games with a Twist: The Talk of 'Squid Game' is Sweeping Through North Atlanta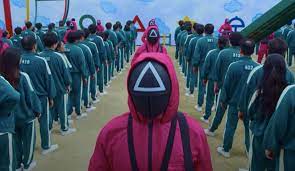 A Hunger Game-esque Netflix show is storming its way through North Atlanta, and it has almost everyone muttering the phrase 'Have you seen "Squid Game" yet?' After its recent debut on September 17th, the intense and scary, yet binge-worthy show has managed to weasel its way into North Atlanta and gain its well-deserved global traction. So, what is it about "Squid Game's" deadly plot that has everyone glued to their screens? 
The show revolves around its sense of dark social constructs, in which the desperately impoverished characters decide to become players in a mysterious survival game after being promised an opportunity for financial sustainability. The goal is to survive the six premeditated games that all relate to children's games, like 'Red Light, Green Light,' 'Tug of War,' and 'Squid Game,' a popular children's game in Korea. The offer for a life-changing cash prize escalates when the players find out that 455 others have been lured into the brutal life-or-death contest as well. They all agree to wager their lives, and through betrayals, teamwork, and the never-ending threat of violence, the show creates amazing pacing and an 'on the edge of your seat' feel that gives justice to the hype surrounding the absurdly addictive show. 
The show's morally questionable characters and the harsh portrayal of capitalism are two of the main reasons the show has managed to become an online craze, which has sparked its rapid uprising to become the number one show in over 70 countries. Though a similar plot to other movies and shows, "Squid Game" marks its territory by focusing on the major characters' decisions as they struggle to choose between their humanity and morals or their survival. 
The constant uproar of the show is thoroughly justified. Having only nine episodes, it proves to be a season you can happily binge in just a day. As the competition goes on, you tend to find yourself rooting for some of the characters to win the intense competitions and games. And it has everyone wondering, 'Could I win the Squid Game?'
Leave a Comment