'Tis the Season: Seasonal Holiday Items Return to Menus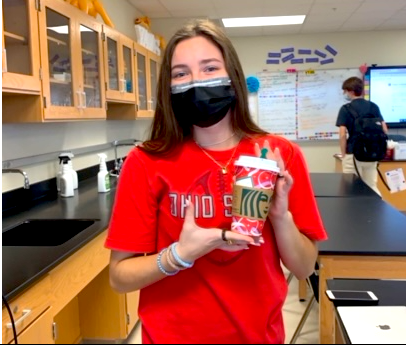 We have officially arrived at the time of year when the Dubs begin to prepare for the upcoming holidays. Not only are students looking forward to the break from school but also the delicious drinks that are making a return at their favorite restaurants. Places like Starbucks, Chick-fil-a, Steak n Shake, and several others have already begun releasing their Fall and Winter-themed menu items. When the school bell rings at 3:45, students race out of the parking deck to be first in line for their favorite holiday drinks.
Since August 24, Starbucks has offered the limited edition Fall drinks that we all know and love. The iconic pumpkin spice latte made its return, along with many other festive flavored drinks. In addition to the pumpkin-flavored coffee drinks, Starbucks debuted their new apple crisp flavored drinks which were a hit with all of the North Atlanta coffee lovers. Now, the coffee joint is rumored to be releasing their Winter holiday drinks on November 4. These flavors usually consist of gingerbread, eggnog, Christmas cookie, chestnut praline, and of course, peppermint. "The peppermint drinks from Starbucks are some of my absolute favorites," said Junior Macy Margulius, Starbucks connoisseur. "Even though I'm Jewish, I am obsessed with the Christmas cookie drink," she said.
Sticking to the peppermint theme, Chick-fil-a just announced the return of their famous peppermint milkshake. This limited-edition drink mixes the Chick-fil-A Icedream dessert with chips of peppermint bark on top. Chick-fil-a also offers their seasonal Chicken Tortilla Soup which has become an annual holiday menu item since 2012. The soup features shredded chicken with navy and black beans, all in a white creamy base with a blend of vegetables and spices. Even Chick-fil-a employees are dying to get their hands on these holiday items. "The peppermint milkshakes are by far the best out of all of the flavors. Every time I go to work, I try to bring one home," Sarah Anne Hamilton said. 
It truly is the most wonderful time of the year when all of our favorite seasonal drinks return to menus. Students can't wait to get their hands on all of the peppermint-themed treats coming soon. These drinks are getting the Dubs into the holiday spirit as the Winter breaks are approaching.
Leave a Comment