Thank You, Yes or Thank You, Next? Thoughts on Ariana Grande's New Album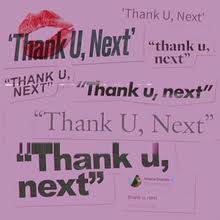 In August of 2018, Ariana Grande released her greatly awaited "Sweetener" album. It is an album about love, happiness, and strength, which pays respect to the lives lost during the attack at her Manchester concert for Grande's Dangerous Woman tour. Shortly after "Sweetener," she came out with several hit singles like "Thank U, Next" and "7 Rings." In addition to this, Grande released her new album titled "Thank U, Next" in early February. Now, the question with all this new content being released is: Are North Atlanta students jamming out or saying thank you, next to Grande's musical stylings?  
After "Sweetener" was released, it was number one on the BillBoard Charts for weeks. With this success, one may think that Grande would sit back and relax, enjoying her free time before the tour. However, the famous pop singer did the opposite. She came out with two singles, both with music videos which broke YouTube records. Her video for "Thank U, Next" starred Kris Jenner, Liz Gillies, Jonathan Bennett, and many more celebrities became the most viewed video on YouTube in 24 hours.
Despite these accomplishments, not everyone loves Grande's sound. Many people believe her music isn't quite original and that she is just like every other artist in the industry. Also, past controversies involving the singer, such as her licking donuts on display in a bakery, do not always sit well with the public. "I know she works hard but her mainstream pop is so basic," said freshman Kailey King. "You can get so much more lit to rap honestly."
However, even if one doesn't personally listen to Grande's music, many agree that after the Manchester attack, a broken engagement, and her ex-boyfriend passing, Ariana Grande is a strong person who has faced great difficulty. Soon after these events, Grande was not going to continue touring, but she didn't want to disappoint her fans. She recovered by recording her new album and spending time with family and friends, which helped her gain the motivation to tour during 2019. "I love her so much," said junior Ashley Humphrey. "The way she handled everything and bounced back is so admirable."
Although North Atlanta students are split on this subject, it is understandable since Atlanta is home to Gucci Mane, T.I., and other legends, who are seen by some as more advanced artists. Whether you're an Ariana Grande stand or not, many agree the way she's handled these difficult situations is commendable. Her new album makes a statement about her last few years, and once it has been listened to, anyone can see who she really is and what she stands for.