New Movie, Bohemian Rhapsody Will Rock You or Will it?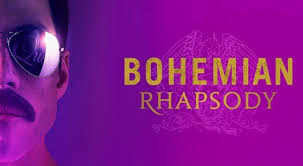 Hang on for a minute...we're trying to find some more stories you might like.
Queen is known for its experimental rock and its eccentric lead singer Freddie Mercury. Now, "Bohemian Rhapsody" is not only the name of one of Queen's most famous songs but also the name of their new biographical movie. The movie follows Freddie Mercury and his band's rise to the top during the 70s.
The movie stars Rami Malek as Freddie Mercury with Roger Taylor played by Ben Hardy, John Deacon played by Joseph Mazzello, and Brian May played by Gwilym Lee. To be even more true to his character, Malek famously donned prosthetic teeth and many costumes to portray the iconic Freddie Mercury, a feat that was hard to take on given the singer's outrageous wardrobes and even more unique personality. Malek performed well as Mercury, but how could it ever be possible for anyone to live up to such a high bar? There was only one Freddie Mercury, after all. Overall, the casting of this movie was spot-on and the characters and actors were virtually dopplegangers.
"Bohemian Rhapsody," a musical biopic, is believed by many to be too "by the book" and very much like many other movies of its kind. It is very formulaic and leaves out chunks of Queen's history that shaped who they were as a band. The left out portions were most likely intentionally changed or left out to add Hollywood flair and make the story more interesting for the viewer.
The dozens of songs played in the movie are one of the many highlights. While it is expected to hear lots of Queen music in a Queen movie, it is fun to jam along to the classics and watch Malek perform in multiple shows including the famous 1985 Live Aid concert. The portrayal of the concert was the best part of the movie and really showed how impactful Queen was as a band. The scene from the movie and the actual concert were almost no different and there were times during the movie where I questioned whether the shot was an actual clip of Mercury from the real concert. The Live Aid concert was one of the most important parts of the movie and really made up for some of the other cliché decisions the producers had made earlier.
Queen will always be one of the most influential rock bands in history and this new movie just goes to show that their memory will not be forgotten any time soon. Queen's story may rock you or maybe you will think of it as another one that bit the dust but overall Queen was an influential band in music and this movie does its best to portray them as so.