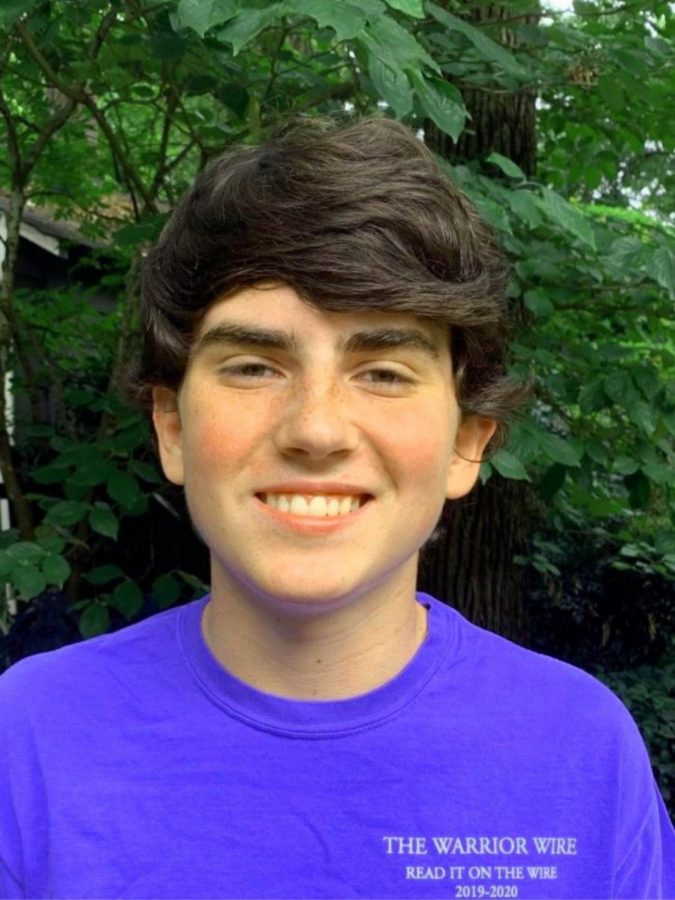 Bo
is a senior staffer who is heading into his third year on the Warrior Wire. He is an avid sports fan and enjoys watching his favorite teams, the Detroit Lions, Atlanta Hawks, and Georgia Bulldogs play. When he's not being let down by the aforementioned Lions,
Bo
can often be found playing sports with his friends, listening to some music, or playing NBA 2K.
Bo
has a passion for writing sports and is looking forward to leading the Wire sports department this year as sports editor. He can't wait to get back to covering the Dubs and is determined to make this year's sports section its best incarnation yet.
Bo Underwood, Sports Editor
Jan 11, 2021

It's Time for the Georgia Bulldogs to give J.T. Daniels a Chance

(Story)

Jan 10, 2021

"The VelociPastor" is the Greatest Film I Will Ever See

(Story)

Dec 10, 2020

North Atlanta Basketball Edges KIPP for Last-Second Win

(Story)

Dec 10, 2020

Warriors Hold on for Win vs. Campbell

(Story)

Dec 01, 2020

Warriors Walk All Over Riverwood in Season Opener

(Story)

Nov 15, 2020

Hoping for Hoops: NAHS Basketball Players to Watch for 2020

(Story)

Oct 27, 2020

Ultimate Warrior: Captain Coleman Dominates Both Sides of the Ball

(Story)

Oct 02, 2020

I Hate the Green Bay Packers and You Should Too

(Story)

Sep 22, 2020

Warriors Start 2020 Football Season with 13-7 Win over Maynard Jackson

(Story)

Sep 18, 2020

Warriors' Jack O'Kelley Finally Getting His Chance at Quarterback

(Story)

Sep 10, 2020

North Atlanta Football Players to Watch in 2020

(Story)

May 07, 2020

ESPN's "The Last Dance" Offers a Way for Sports Fans to Fill the Void

(Story)

Apr 21, 2020

The Pain of a World With No Sports

(Story)

Feb 20, 2020

North Atlanta Community Remembers Kobe Bryant

(Story)

Feb 07, 2020

Charlie Hamilton: Warrior Basketball's Personal Sharpshooter

(Story)

Jan 17, 2020

North Atlanta Falls on the Road at Westminster

(Story)

Nov 14, 2019

North Atlanta Punches Playoff Ticket in Win Over Chattahoochee

(Story)

Nov 06, 2019

Warriors Continue Playoff Push With Victory Over Centennial

(Story)

Oct 31, 2019

Rock Bottom: What is Wrong with Atlanta Sports?

(Story)

Oct 11, 2019

North Atlanta Delivers in Front of Homecoming Crowd, Beats Northview 42-28

(Story)

Oct 07, 2019

North Atlanta Boys Cross Country Team Has Genuine Championship Aspirations

(Story)

Sep 13, 2019

North Atlanta Dismantles Kipp to Pick Up Second Straight Win

(Story)

Sep 09, 2019

North Atlanta Football Players to Watch for 2019

(Story)

Aug 29, 2019

North Atlanta Knocks off Grady in Football for Third Straight Year

(Story)

May 23, 2019

What "Senior Privileges" Actually Exist at North Atlanta?

(Story)

May 19, 2019

With Test Season Looming, How Much Did Those ELT Advisements Help?

(Story)

Mar 13, 2019

North Atlanta's Two-Sport Athletes Balance Year-Round Sports with Rigorous Athletics

(Story)

Mar 12, 2019

An Everyman's Guide to Uber-Cool Teen Phrases

(Story)

Jan 28, 2019

Clemson Stuns Alabama in Blowout National Championship Win

(Story)

Jan 15, 2019

Warriors' Coach Sarden Aims to Help Others Through His Own Love for the Game

(Story)

Dec 13, 2018

Are Georgia Sports Cursed? Because It Sure Does Feel Like It

(Story)

Nov 05, 2018

"Fantasy" Football? For Some Warriors, It's a Reality

(Story)

Oct 03, 2018

Controversial Kaepernick Nike Ad Forces Students to Pick a Side

(Story)

Sep 25, 2018

"Warrzone" Student Section Brings the Energy on Gameday

(Story)

Sep 13, 2018

New Warrior Unis Part of Overarching Program Culture Change

(Story)

Aug 27, 2018

NAHS Football Players to Watch in 2018

(Story)

May 12, 2018

CNN 10 Anchor Carl Azuz Inspires Journalism Students

(Story)