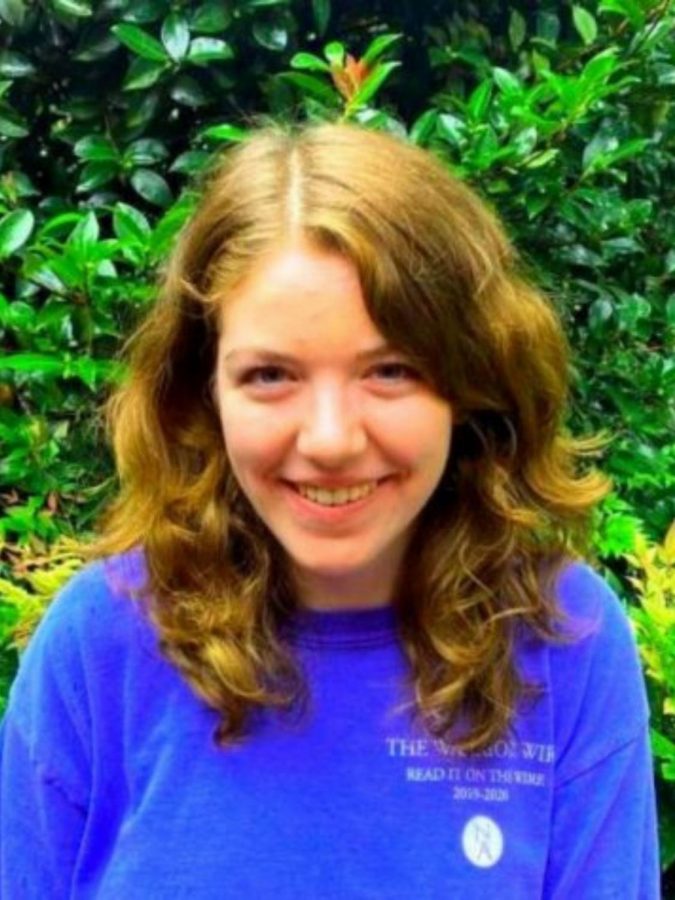 Sophie Peck is a senior and managing editor on the Warrior Wire. She drinks far more coffee
than deemed healthy, and owns a whopping 9 pairs of Dr. Martens. A boy band lover, she can
be found squawking about One Direction reunion rumors. She has a slightly unsettling
infatuation with the Shrek movies and a dangerous habit of spending hours browsing Tik Tok.
She does, however, have a life outside of these sad hobbies, which includes managing the
NAHS men's soccer team (go dubs). She hopes to one day land herself a job as the female
version of Bob Woodward, writing as an investigative journalist for the Washington Post. For
now, she is stoked to spend one last year on the Wire.
Sophie Peck, Managing Editor
Nov 06, 2020

Fresca Fever: Mysterious Shortage Fuels Frenzy for Beloved Beverage

(Media)

Oct 14, 2020

Why We Can't Ignore JK Rowling's Bigotry

(Media)

Oct 14, 2020

Recent NAHS Grads at Tech Adjust to Pandemic Realities

(Media)

Jul 05, 2020

APS Swears in New Superintendent Dr. Lisa Herring

(Story)

May 12, 2020

Top Class: 2020 Valedictorian, Salutatorian, and STAR Student Named 

(Story)

May 07, 2020

The Places They'll Go: The Class of 2020's Impressive College Plans

(Story)

May 07, 2020

Netflix Party: What Students are Streaming During Quarantine

(Story)

Apr 17, 2020

Letdown: Boys Soccer Players Reflect on Shortened Season

(Story)

Mar 31, 2020

North Atlanta Students Adjust to Remote Education in New Pandemic Era

(Story/Media)

Mar 12, 2020

COVID-19 Virus Instills Fear in North Students

(Story)

Feb 26, 2020

It's the Real Thing: New Sustainable Caps and Gowns Thanks to Coca Cola

(Story)

Feb 20, 2020

Preseason Jitters, Warriors Prepare for Spring Sport Seasons

(Media)

Feb 11, 2020

It's the Real Thing: New Sustainable Caps and Gowns Thanks to Coca Cola

(Story)

Feb 03, 2020

North Atlanta Students Seek Ways to Avoid Crime in Buckhead

(Story)

Jan 24, 2020

ACE Mentor Program Supports Interests in Innovation

(Story)

Jan 09, 2020

Dr. Hasty Dishes on her Teaching Career

(Story)

Dec 09, 2019

Destination China: Warriors Go Global

(Story)

Dec 09, 2019

Freshman Fencing Phenom Lucy Bybee Heads to 2020 Junior Olympics

(Story/Media)

Nov 14, 2019

North Atlanta's 2019 Homecoming Royalty

(Story)

Oct 21, 2019

North Atlanta "Vote for your Future" Group Helps Students Register to Vote

(Story)

Oct 17, 2019

North Atlanta's Slam Poets Reach New Heights

(Story/Media)

Oct 04, 2019

Atlanta School Board Opts Not to Renew Superintendent Carstarphen's Contract

(Story)

Sep 09, 2019

High Steaks Movement Aims to Remove Beef From the APS Lunchline

(Story)

May 30, 2019

Seniors Declare College Plans on 2019 Decision Day

(Story)

May 20, 2019

North Atlanta is Lacking in Sex Education

(Media)

May 19, 2019

With Test Season Looming, How Much Did Those ELT Advisements Help?

(Media)

May 11, 2019

The Stress With Service Hours

(Media)

Apr 22, 2019

Nearly 50 Seniors Gain Coveted Admission to UGA

(Story)

Mar 28, 2019

North Atlanta's 2019 STAR Student Jake Churchill

(Story)

Mar 15, 2019

APS Lends a Helping Hand to Staff Affected by Government Shutdown

(Story)

Feb 06, 2019

North Atlanta Rolls out Sandy Hook Promise "Say Something" Program

(Story)

Feb 06, 2019

Georgia Senate Committee Attempts to Create a Later Start For Schools

(Story/Media)

Jan 15, 2019

Standardized Testing Succeeded in Stressing Students and Staff

(Story)

Jan 11, 2019

NAHS Film Club Fosters Appreciation for Cinema

(Story/Media)

Dec 02, 2018

First Time Voters Take On Midterms

(Story)

Oct 31, 2018

New Jewish Student Union Lets Students Explore Their Faith

(Story/Media)

Oct 23, 2018

Georgia Governor's Race Promising Unprecedented Results

(Story)

Oct 01, 2018

The North Atlanta Window Washing Wonders

(Story)

Sep 06, 2018

Warrior Pride Soars Thanks to North Atlanta Spirit Club

(Story)

Aug 27, 2018

Marvelous Mullets: Business in the Front, Party in the Back

(Story)